Starring | Mícheál Fleming, Claire Loy, Degnán Geraghty

Yes, it's a film about Irish zombies…because the vege-tables have turned on a desperate trio of zombies, who are left with no choice but to chomp on vegetables to survive. (In English & Irish).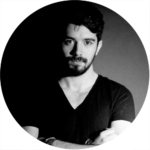 An Irishman with a Brazilian twist. Reared in the foothills of the Slieve Bloom mountains, Co.Laois only to rise and conquer the mighty Dublin in my studious years. Mícheál started out in theatre. Acting and writing plays and then found a taste for film.