Troubles Director; Jonathan Harden,  Toronto Irish Film Fest SUN MAR 3rd 2:00pm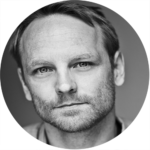 Starring | Fra Fee, Niall McNamee, Tony Devlin

A troubled traditional Irish musician re-enters the fold after a long absence. An emotionally stunted friend wants to offer an apology. When words fail them both, music is all they have to bring them together.

Jonathan is a director and actor from Belfast. Troubles is his second short film as a director and producer. His first GUARD – a female led boxing film – premiered at the Galway Film Fleadh in 2017. Film Credits as an actor include: Rian Johnson's Star Wars: The Last Jedi (Bad Robot, Lucas Film), Stephen Frears' Victoria & Abdul (Working title), Ralph Fienne's The Invisible Woman (BBC Films), and Oliver Hirschbiegel's Five Minutes of Heaven (BBC Films). Jonathan has appeared in her twenty shorts, including four with Oscar nominee Michael Lennox, for whom he narrated the 2015 BAFTA winner, Boogaloo and Graham.