Nathan was born on 28th May 1990, growing up in Liverpool. His family originate from Newry in County Down.He soon leaned to play the accordion and trips to Ireland to compete in Fleadh Ceoil's became a regular feature of young Nathan's life, and by the age of 12 he won All Ireland medals for singing, and the accordion. Nathan soon became a member of the Liverpool Ceili band, playing accordion and piano, and solo performances soon followed in Liverpool and Ireland.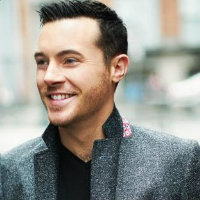 On a trip to Donegal in 2009, Nathan was appearing in concert in Buncrana, where he met with songwriter John Farry. So impressed was Farry that representation soon followed and the rest, as they say, is history.

Nathan's recordings include WHERE I WANNA BE (no. 1), BEAUTIFUL LIFE (no. 1), 'STAYIN' UP ALL NIGHT' which topped the Irish chart and reached the top 20 in the UK. THE WAY THAT YOU LOVE ME, TIME OF MY LIFE, THE LIVE SHOW, Audio CD & DVD. WAGON WHEEL CD, which saw him sign with Decca Records. The video single to 'Wagon Wheel', has generated more than a million hits on YouTube.
Nathan and his band are about to embark on their first Norht American Tour and are including Kingston, ON and Toronto as part of the tour.